Click here to

Shepherd Leading Sheep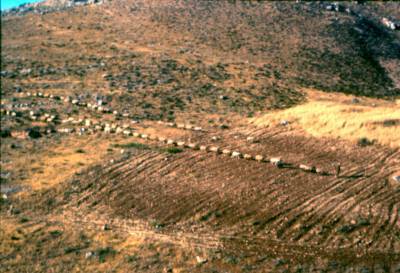 Notice: This photo is copyrighted by Dennis Bratcher and is not available for public use.
Do not link directly to this photo or to any photos on this site.
A shepherd leading his sheep between pastures, near Bethlehem in southern Judea (viewed from the Herodium). Unlike cattle, sheep cannot be driven by keepers and must be led by a trusted shepherd, often helped by a herd dog. This common scene in the ancient world became an often used metaphor in Scripture.
Isaiah 40:11 He will feed his flock like a shepherd; he will gather the lambs in his arms, and carry them in his bosom, and gently lead the mother sheep.
Psalm 78:52 Then he led out his people like sheep, and guided them in the wilderness like a flock.
John 10:3 The gatekeeper opens the gate for him, and the sheep hear his voice. He calls his own sheep by name and leads them out. 10:4 When he has brought out all his own, he goes ahead of them, and the sheep follow him because they know his voice. 10:5 They will not follow a stranger, but they will run from him because they do not know the voice of strangers.
Related pages
Historical and Cultural
Context of Scripture
Issues in Biblical Interpretation