Click here to

The View from Mount Nebo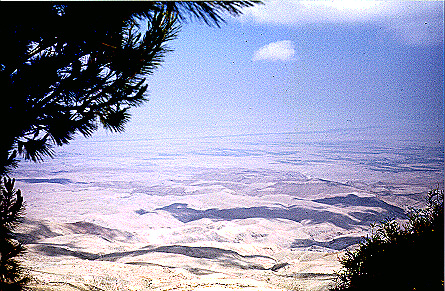 Notice: This photo is copyrighted by Dennis Bratcher and is not available for public use.
Do not link directly to this photo or to any photos on this site.
This is the Jordan Valley as seen looking from the top of Mount Nebo in the Transjordan region (the modern Kingdom of Jordan). The Jordan river is the faint diagonal line in the center of the photo, and the land beyond is Palestine, the modern nation of Israel. This view is toward the northwest in the direction of Shechem (Samaria). The biblical tradition remembers this mountain as the site from which Moses was allowed to view the promised land, although he had been forbidden by God to enter it (Deut. 34:1-4).
Related pages
Historical and Cultural
Context of Scripture
Issues in Biblical Interpretation