Joe Talhelm


Please, click on the midi player to hear the music.
The music is It Came Upon A Midnight Clear.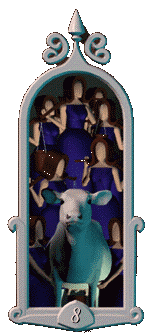 2 Corinth. 5:17 "Therefore if any man be in Christ, he is a new creature; old things are passed away; behold, all things are become new."

It's a brand new year! And with each new year comes new plans, new goals, new resolutions. It is natural for people to want something new in their lives. It is common for us to want to become something we are not. So, we break out the weights, we try on a new diet, we go back to college, or we might even try lessons on that instrument we have always wanted to play.
For a while we are gung ho- full of energy and vitality. We just can't wait to show off the 'new me'. While all those plans and wishes are admirable, most of the time we get bored with the 'new plan' and soon we are right back to where we were at the beginning of the year.
Change. Real change that makes a difference comes only when an individual comes to grips with his or her self. Real change comes only when we realize that, on our own, we are nothing. On our own, we can do nothing. On our own, we never see real success. On our own, we are only failures.
Enter our Scripture. If you are looking for real change, if you are searching for a brand new start that will stick, if you really want to become a successful individual, then great news is found in our Scripture reading.
If anyone is in Christ (that includes even you, my friend) he or she is a new person (NEW - not the person you used to be. Not the person you are tired of.) Old things (the past, the old habits, the way you used to be) are passed away and ALL things become new! Yes, this is the change we all long for!
This is what we desire - a real change from being a failure. A brand new start to being what we were created to be - a vibrant, exciting person with a reason to live! Is this what you are looking for? Great! Then begin the new year with all your sins forgiven (through a true repentance of your sins) and start real living as the brand new you! The you that is forgiven and filled with the Spirit! The you that has changed!
Joe Talhelm
Crowley, Louisiana, USA
"I can do all things through Christ who strengthens me." Phil. 4:13

Daily Scripture Readings*
[Psalm 66, 67 [Proverbs 2:1-15] [Colossians 3:12-17 [John 6:41-47]

Dear Lord,
This is the day You have made. Let me rejoice, and be glad in it. There will be 364 more of these in the year to come. Help me Father, to make them all count for you. Let the change that You have brought keep me inspired, challenged, motivated. Let Your newness stay ever fresh. Let me know You, and Your glory, with unfaded awareness of the most precious presence ever. I need You, Lord. I love You, Lord. Let Your newness become mine.
Amen
*These readings are adapted from the Daily Office of the Book of Common Prayer, Year 2. For Year 1 readings, see Daily Readings, Christmas 1