Gina Stevenson


Please, click on the midi player to hear the music.
The music is Angels We Have Heard On High.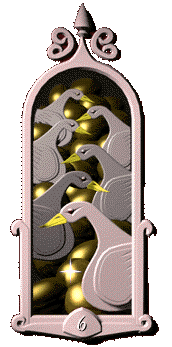 ---
30 December
The first thought to cross my mind when assigned this day was, "Oh, no! Of all days . . .", not being too sure of my ability to handle this, the first anniversary of being without my husband, Danny. But then, I decided the Lord allowed this day out of five weeks to be assigned to none but me for His own reasons, and accepted it as from Him realizing I'm not alone in experiencing a "first Christmas without" a spouse or some loved one.
Upon reading some of the Scriptures for this day [from Year 1 Readings], I noted in them that the Lord, whose birthday we celebrated just a few days ago, not only brought to us salvation [Isaiah 25:9], but He will also "swallow up death forever (and) the Sovereign LORD will wipe away the tears from all faces . . ." [Isaiah 25:8].
We may not understand now why many of us did not receive our miracle in the form of a loved one being healed while on this earth, yet "in perfect faithfulness (He has) done marvelous things, things planned long ago" [Isaiah 25:1]. Yes, what we cannot see as His "marvelous things" or as being done "well" [Mark 7:37], when trusting Him "who is, and who was, and who is to come," will be accepted by Him as "sacrifice . . . burnt offering" [Psalm 20:3].
Life's canvas colors we may not choose, and
Sometimes God paints with the darker hues.
Tho' we don't understand the reasons why,
And may never till the 'bye and bye' . . .
Yet, we will believe what his Word doth tell . . .
In His LOVE, "He doeth all things well." -- gjs, 1/98, [Mark 7:37]
So, in spite of what kind of year this may have been for some of us, let us all anticipate the New Year that is nearly upon us "trust[ing] in the name of the LORD our God" [Psalm 20:7b], with this prayer for each other:
"May he give you the desire of your heart, and make all your plans succeed." Psalm 20:4
~ Gina Stevenson
Phoenix, Arizona, USA
---
Daily Scripture Readings*
[Psalm 20, 21] [1 Kings 17:17-24] [3 John 1-15] [John 4:46-54]
---
Oh, Dear Father,
You never promised that there would be no pain, but You give us grace in spite of the pain we endure. Our loss is close, so very close, to Your heart. You understand our hearts. You have become as vulnerable as we are through the life of Your Son. "Your heart is touched with our grief." Thank You for Your boundless love and care. We don't like the pain but we are thrilled each time Your presence is made known.
Amen
*These readings are adapted from the Daily Office of the Book of Common Prayer, Year 2. For Year 1 readings, see Daily Readings, Christmas 1.
---