Marsha Lynn


Please, click on the midi player to hear the music.
The music is Carol of the Bells.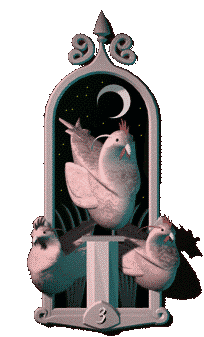 Faith, Hope and Love

These three remain: Faith, Hope, and Love; even after the Christmas gifts are all unwrapped and we clear the paper and ribbons away and stash the decorations in the attic.
At this time of year, it's Hope that stirs so strongly in my heart. The winter solstice is past and each day is slightly longer than the last. There is hope for the return of bright, sunny mornings and late summer evenings.
Seed catalogs appear in my mailbox with their colorful promises of brilliant flowers and mouth-watering produce. In just a few weeks, amid days of snow and cold, it will be time to claim the promise of spring by setting seed trays in a sunny window or under a light.
More bright rays of hope come with the new calendar. Like lined paper waiting to be filled with writing, the days of the new year spread out in front of me and Hope springs to my side unbidden to announce that this year things will be different.
I've heard many people claim to make no New Year's resolutions because they always fail to keep them anyway. Their assessment is so much more realistic than mine. I tell myself, I should give up these dreams of doing better tomorrow. Yet I find Hope to be unquenchable in my heart. The joy of reaching even the smallest goal has me hooked on setting more.
I admit it: I make New Year's resolutions. Yes, I determine to exercise more, eat less, and be a better wife and mother. Those are the obvious goals. But I also try to spend time in prayer and allow God to focus the hope within me into spiritual goals. Usually, it's a matter of verbalizing to myself the direction in which I sense God moving me. It's so satisfying to assign a label, such as transparency or spiritual risk-taking, to the lessons I'm learning and to embrace those lessons as paths to being more like Christ.
Hope and Joy come together. Both provide breathtaking views as our spirits soar high above the harsh rocks of Reality borne by the wings of the Spirit of God. Faith lets us relax and enjoy the ride. And Love is so evident in the patience of God as He guides us gently on to become the persons He wants us to be.
~ Marsha Lynn
Odon, Indiana, USA



Daily Scripture Readings*
[Psalm 103] [Isaiah 62:1-5, 10-12] [Revelation 19:11-16] [Matthew 1:18-25]
---
Lord,
Thank you for letting the rush subside. And yet, on this Your day, let me not forget the promises I have made through the journey I began at Advent. May the love and hope that I have rekindled also stir my faith into activity. Not only a faith that believes, but a faithfulness that with Your grace makes me become a better person; an easier person to live with. Oh Father, I believe, help me in my times of unbelief.
Amen
*These readings are adapted from the Daily Office of the Book of Common Prayer, Year 2. For Year 1 readings, see Daily Readings, Christmas 1.
---