Arthur Knights


Please, click on the midi player to hear the music, I Wandered as I Wandered.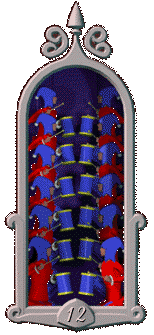 ---
Christmas Devotional
During the time surrounding the birth of the Lord Jesus Christ, Mary and Joseph had some awesome experiences! The very night He was born, shepherds came to see the baby, saying they had been told by angels to visit. Later, wise men from the East told how they had been led to them by an unusual star. As Mary pondered these events, she could not help but remember what the angel, Gabriel, had said. And yet it all seemed so unreal.
Now the time had come for Mary and Joseph to fulfill the requirement of God's law, and take their new-born Son to the temple in Jerusalem. They would participate in a dedication ceremony, to acknowledge that this precious new Life had been given to them by God, and as the first-born, belonged to God. It was all very routine really. They had seen relatives and friends do the same thing over the years. No big deal.
So here they are entering the temple. People milling around.
But wait! Who is this elderly man approaching?
He introduces himself as Simeon. He says he was prompted by the Holy Spirit to visit the temple at that time, and then to approach this little family.
"Why would he want to talk to us?" Mary thinks to herself. "We are obviously not important people. Anyone can see that all we could afford was the minimum sacrifice of two turtle doves."
Then this kindly-spoken man goes on: "God told me I would not die until I saw the Messiah with my own eyes! Today He has told me that your precious little baby is the One! Now I can depart in peace."
"Again with the mystical messages!" Mary muses. But there was more.
"He will cause many to fall and rise in Israel, and He will be a Sign to be spoken against."
"Yes", thought Mary, "It seems every time God does something out of the ordinary, people speak against it."
"And a sword will pierce your own soul also"
"Uh, oh! That doesn't sound too good! I wonder what he means?"
Just then, a lady who looked like she was even older than Simeon came over. She said her name was Anna. Actually, they had seen Anna before. She was well known around the temple, as she had spent so much time there over the many years since her husband had died.
With a shriek of delight, Anna just prayed out loud, thanking God for giving her the privilege of seeing the Messiah. Then she went off and excitedly told everyone she knew about that wonderful occasion.
As Mary and Joseph finished their duties at the temple and went on their way to Nazareth, they recounted the strange things they had seen and heard.
"I wonder why it is that people like Simeon and Anna knew about the time of the Messiah's arrival, yet everyone else seems to be living their lives as if nothing special is going on?" Joseph pondered.
"I guess they have taken the time to get to know the Father and become His intimate friends."
- Arthur Knights
Draper, Queensland, Australia
---
Daily Scripture Readings*
[Psalms 2, 110:1-7] [Jonah 2:2-9] [Ephesians 6:10-20] [John 11:17-44]
---
Dear Lord,
This journey is almost over. A new year is here. I've already broken most of my great plans for a new beginning. It is said that the wise men offered gifts of great cost to You. I don't have anything of great cost. All I have is me. And really Lord, I'm not all that hot. But, if You are interested, I'm Yours. Use me as You will. Do with me what You want. For, if I have learned nothing else in this journey, I now know that You can be trusted. So, I'm Yours.
Amen
*These readings are adapted from the Daily Office of the Book of Common Prayer, Year 2. For Year 1 readings, see Daily Readings, Christmas 1.
---