Chuck Wilkes


Please, click on the midi player to hear the music. The music is Fantasy of Silent Night.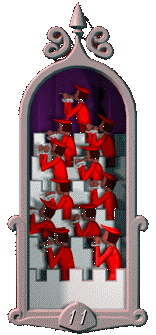 "Farm Dorm"
---
It was Christmas Eve, actually Christmas morning about 2 a.m. The deep of night was dark, the air was cold and crisp, the wind brisk, and I was making my bed check rounds as a prison guard. I was working the minimum custody dorm where the inmates were housed in large rooms with 20 inmates to a room. Each side of the room was lined with beds in which slept the inmate residents of what was called the "Farm Dorm." It was time for count and I was making my rounds early that first Christmas morning of my married life.
As I eased the door to the dorm room opened, trying not to let it squeak and awaken the men, I looked down the long room and at the sleeping forms of twenty convicted criminals. Burglars, robbers, rapists, even one or two incarcerated for murder. I needed to count them, to make sure they were all still in their proper place.
I distinctly remember entering the room and being struck by the powerful realization that on that Christmas day, the baby Jesus had been given to these men also. A free gift. Not just to those who had been privileged in life. Those who had good jobs, good homes, good families. But, he had come even for these men too. I had to pause a moment to collect my thoughts before I, their jailer, continued my rounds. I don't think I'll ever forget the sight of those men sleeping on Christmas morning. Sleeping and not even yet fully aware that Jesus had come as a gift for them also. I resolved then to do my best to let them know about the gift. John 6:47 says, "I tell you the truth, he who believes has everlasting life." How will they know if we do not tell them?
~ Chuck Wilkes
Highlands Ranch, Colorado, USA
---
Daily Scripture Readings*
[Psalms 66, 67] [Prov 2:1-15] [Col 3:12-17] [John 6:41-47]
---
Dear Father,
How easy it is to forget that it wasn't only for the people "just like me" that You came to bless with Your Presence. Lord, nearly every day this year I will be confronted with someone who isn't "just like me." Help me to remember that I wasn't "just like You" before I came to know You as my personal Savior. Help me to remember that I am still not "just like You." But, You love me anyway. Help me be an example of that love, and Your grace.
Amen
*These readings are adapted from the Daily Office of the Book of Common Prayer, Year 2. For Year 1 readings, see Daily Readings, Christmas 1.
---