Wes Smith


Please, click on the midi player to hear the music.
The music is Do you Hear What I Hear?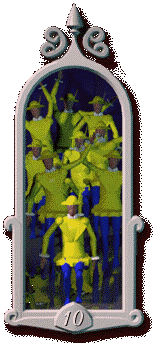 ---
Little Is Much! (1 Kings 19:9-18)
You would think that after his experience on Mt. Carmel that Elijah would have spent the rest of his life in total optimism. The numerical odds against his success up there were astronomical. There were nine hundred pagan prophets lined up against him and even those who were expected to support him were silent. Not to worry! God heard the simple prayer of that one man and, technically, over-answered his prayer!
So, it is somewhat shocking when the curtain goes up on the next scene and we find our hero hiding. We don't know the whole story, but he is probably overwhelmed with the human side of having to constantly stand alone for God.
Truth is that the curtain in each of our lives frequently rises to expose our personal discouragement and frustration. This side of Christmas, it is good for us to be reminded that God is an expert at doing big things in small ways. The Scripture says that Elijah's encouragement came in a "gentle whisper." For the shepherds it was the "baby wrapped in cloths and lying in a manger." We should never forget that, "little is much, when God is in it!"
- Wes Smith
McMinnville, Oregon, USA
---
Daily Scripture Readings*
[Psalm 68] [1 Kings 19:9-18] [Eph 4:17-32] [John 6:15-27]
---
Father,
It all seemed so big; the celebration, the glitz, the cleanup. And I, well, I still seem so small, so insignificant. Lord, let me be totally honest. Often, I simply seem useless, unneeded, extra baggage. Are You SURE You want me? I mean, I can understand us needing You, but, You want ME!!! Thank You for making me feel needed. Thank You for reestablishing my sense of worth. But, stay with me Lord. I will need You to remind me of all that again.
Amen
*These readings are adapted from the Daily Office of the Book of Common Prayer, Year 2. For Year 1 readings, see Daily Readings, Christmas 1.
---